Consumer demand for local, sustainably-produced food continues to climb. Food lovers are also searching for information about the farms, nutrition, taste and preparation of the delicious and nutrient-packed veggies, fruits, and pastured meats. And that's where the Hungry Turtle Institute (HTI) comes in.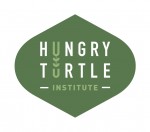 In its second year, HTI is a nonprofit dedicated to connecting food lovers and food growers to practical info and experiences, lively discussions, and other useful and fun resources. An example is the Hungry Turtle Weekend
July 17-18, 2015 in Amery, WI.
Kristen Lee-Charlson is HTI's first full-time executive director. She comes to the Institute with a deep background in whole-foods preparation as a chef and caterer. A consultant to chefs with regard to local food sourcing, she also was instigator and editor of Edible Missoula.
I hope you enjoy this
Deep Roots Radio
conversation with Kristen and think to participate in this and future Hungry Turtle Weekends.